Michael Ackerman, M.D., Ph.D., inducted into American Association of Physicians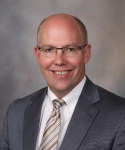 Michael Ackerman, M.D., Ph.D. (MDPH /95, PHAR '95, PD '98, PDC '00), divisions of Heart Rhythm Services and Pediatric Cardiology and director of the Windland Smith Rice Genetic Heart Rhythm Clinic and Sudden Death Genomics Laboratory at Mayo Clinic in Rochester, was inducted into the Association of American Physicians (AAP).
The AAP is an honorary medical society founded in 1885 by Sir William Osler and six other physicians for "the advancement of scientific and practical medicine." Dr. Ackerman is one of only 27 physicians in Mayo Clinic's history to be inducted into the AAP.
Election to the AAP is an honor extended to physicians with outstanding credentials in basic or translational biomedical research and is limited to 70 persons per year. It includes about 1200 active members and 700 emeritus and honorary members.  Selection to membership is an indication of the pre‐eminence and the highest caliber of physician‐led science accomplishments and scientific leadership.