Michelle Ochs Kinney, M.D., receives Mayo Clinic Karis Award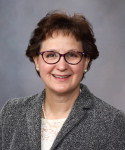 Michelle Ochs Kinney, M.D. (I1 '95, ANES '98, PAIN '99), Department of Anesthesiology and Perioperative Medicine at Mayo Clinic in Rochester, received a Mayo Clinic Karis Award in recognition of living out the Mayo Clinic values in an extraordinary way as she serves patients, visitors and colleagues.
A nominator said, "Dr. Kinney is one of the most compassionate and empathetic people I know. I have observed her interactions with patients and their family members in multiple difficult situations. She allows them to talk. She listens. She expresses empathy and understanding and does everything in her power to improve their situation. She makes sure they know she is present for them."
Dr. Ochs Kinney is an assistant professor of anesthesiology in the Mayo Clinic College of Medicine and Science.