Miguel Park, M.D., receives Mayo Clinic Karis Award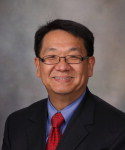 Miguel Park, M.D. (I '02, CMR '03, AIM '05), Division of Allergic Diseases, Department of Medicine at Mayo Clinic in Rochester, received a Karis Award from Mayo Clinic. The award recognizes caring persons who live out the Mayo Clinic values in an extraordinary way.
Dr. Park has joint appointments in the Department of Pediatric and Adolescent Medicine and the Division of Clinical Biochemistry and Immunology in the Department of Laboratory Medicine and Pathology. Dr. Park is an assistant professor of medicine in the Mayo Clinic College of Medicine and Science.