Mohamad Bydon, M.D., named executive medical director, Academic Affairs, Mayo Clinic International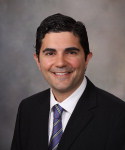 Mohamad Bydon, M.D. (NS '15), Department of Neurologic Surgery at Mayo Clinic in Rochester, was named executive medical director of Academic Affairs for Mayo Clinic International. He will fulfill the responsibilities previously held by Stacey Rizza, M.D. (MED '95, I '88, INFD '01), on an interim basis.
Dr. Bydon will work to advance Mayo Clinic's mission and strategy by fostering the development and integration of research and education into international markets, operations and sites. He currently serves as medical director of the Middle East and Africa Region for Mayo Clinic International, which he will maintain in his new appointment.
Dr. Bydon is professor of neurosurgery in the Mayo Clinic College of Medicine and Science. He is also a professor of orthopedics and health services research.