Nagarajan (Raj) Kannan, Ph.D., featured in ISSCR newsletter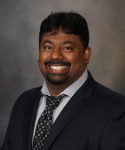 Nagarajan (Raj) Kannan, Ph.D. (LABM & PATH '16), Division of Experimental Pathology and Laboratory Medicine at Mayo Clinic in Rochester, was interviewed in the International Society for Stem Cell Research's The Pulse newsletter.
"My academic and career mentors, from high school to postdoctoral years, saw potential in me and spent their valuable time and energy grooming my skills. I believe it is the consequence of their collective effort and my commitment that has helped me succeed as an independent stem cell and cancer biologist."
Dr. Kannan is an assistant professor of laboratory medicine and pathology in the Mayo Clinic College of Medicine and Science.