Narayan Gurukripa (Guru) Kowlgi, M.B.B.S., presents 3 abstracts, is first author on 4 book chapters and 7 manuscripts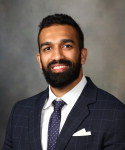 Narayan Gurukripa (Guru) Kowlgi, M.B.B.S. (CVEP '21), Department of Cardiovascular Medicine at Mayo Clinic in Rochester, presented three abstracts at HRS (Heart Rhythm Society) and ACC (American College of Cardiology) and was first author on four book chapters and seven manuscripts, including "Efficacy of Intentional Permanent Atrial Pacing in the Long-Term Management of Congenital Long QT Syndrome" published in the Journal of Cardiovascular Electrophysiology.
He was elected to the Circulation: Arrhythmia and Electrophysiology Editorial Board, selected to be on the ACC Scientific Sessions Arrhythmia Planning Committee, received an ACC Travel Scholarship, was a featured fellow for the ACC's "Heart of It" campaign and was selected as faculty at the ACC Young Scholar's Program.