Nicholas Tan, M.D., presents abstracts at AHA, authors manuscripts, elected as ACC newsletter editor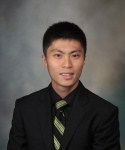 Nicholas Tan, M.D. (I '18, CV '21), Department of Cardiovascular Medicine at Mayo Clinic in Rochester, presented two abstracts at AHA (American Heart Association) and was first author on four manuscripts including "Comparative Effectiveness of Sacubitril-Valsartan Versus ACE/ARB Therapy in Heart Failure With Reduced Ejection Fraction" published in JACC Heart Failure. He was awarded the Heart Rhythm Society Wilton W. Webster Fellowship in Clinical Cardiac Catheter Ablation for his project "Nanosecond Pulse Electric Field Ablation of Pulmonary Veins in Canine Models", was elected as an ACC FIT newsletter editor and was a member of the ACC Jeopardy Minnesota State Champion team.
He was promoted to assistant professor of medicine in the Mayo Clinic College of Medicine and Science.