Peter Noseworthy, M.D., awarded spot in MIT Executive MBA program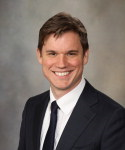 Peter Noseworthy, M.D. (CV '13), Division of Heart Rhythm Services at Mayo Clinic in Rochester, was awarded the opportunity to obtain an MBA through MIT's Executive MBA program. The Mayo Clinic Cardiovascular Research Center and Department of Cardiovascular Medicine sponsored the opportunity to drive innovation, develop leadership, network with business and engineering talent outside of Mayo Clinic, and further develop teams and capabilities. Dr. Noseworthy will join the fall 2021 MIT cohort.
Dr. Noseworthy is a professor of medicine in the Mayo Clinic College of Medicine and Science.