Pierre Noel, M.D., is medical director of Mayo Clinic's Center for Military Medicine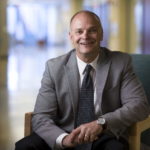 Pierre Noel, M.D. (HEM '86), Division of Hematology and Medical Oncology at Mayo Clinic in Arizona, was named medical director of Mayo Clinic's new Center for Military Medicine.
The center coordinates military-related practice, education and research programs across Mayo Clinic campuses and is the point of contact for the Department of Defense and other federal agencies.
Dr. Noel is a primary consultant in protective medicine for the White House Medical Unit and a senior visiting fellow at the Scowcroft Center for Strategy and Security. He has held leadership roles at the National Institutes of Health, including acting director of Security and Emergency Response; and the U.S. Department of Health and Human Services, focusing on disaster recovery and pandemic response planning.
In 2012 he developed a Special Operations Tactical Medicine Training Program at Mayo Clinic for military Special Missions Units. The program specializes in combat trauma, prolonged field care and critical care. The program has trained more than 600 health care providers, medics and troops.
Dr. Noel also is a professor of medicine in the Mayo Clinic College of Medicine and Science.