Pierre Noel, M.D., selected for Defense Health Board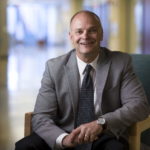 Pierre Noel, M.D. (HEM '86), medical director for Mayo Clinic Center for Military Medicine, was selected for membership on the federal Defense Health Board for a four-year term. He was nominated for the position by John Noseworthy, M.D. (N '90), emeritus president and CEO Mayo Clinic; Vice Adm. Colin Kilrain; and Rear Adm. W. Howard. The Defense Health Board is an advisory committee that provides independent advice and recommendations to maximize the health, safety and effectiveness of all Department of Defense health care beneficiaries.
Dr. Noel is a consultant in the Division of Hematology and Medical Oncology at Mayo Clinic in Arizona.