Rahul Kashyap, M.B.B.S., receives Moore Foundation Award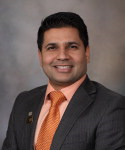 Rahul Kashyap, M.B.B.S. (EM '07, THDC '11), a research scientist in the Department of Anesthesiology and Perioperative Medicine, received the Moore Foundation Award for this efforts as principal investigator on the Viral Infection and Respiratory Illness Universal Study (VIRUS).
Dr. Kashyap is an assistant professor of anesthesiology in the Mayo Clinic College of Medicine and Science.