Regan Theiler, M.D., Ph.D., named chair of Division of Obstetrics, Mayo Clinic Rochester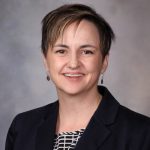 Regan Theiler, M.D., Ph.D. (OBG '17), was named chair of the Division of Obstetrics in the Department of Obstetrics & Gynecology at Mayo Clinic in Rochester. She succeeds Kyle Traynor, M.D. (OBG '03).
Dr. Theiler graduated from the University of Wisconsin-Madison M.D./Ph.D. Program and completed her OB-GYN residency at Emory University in Atlanta, Georgia. She was a Women's Reproductive Health Research scholar for four years at the University of Texas Medical Branch in Galveston, Texas. Most recently she was director of the Division of General Obstetrics and Gynecology at Dartmouth-Hitchcock Medical Center in Lebanon, New Hampshire, for five years.