Robin Patel, M.D., speaks on Capitol Hill about antimicrobial resistance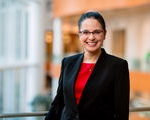 Robin Patel, M.D. (I '92, INFD '95, CM '96), chair, Division of Clinical Microbiology at Mayo Clinic in Rochester, served on the congressional briefing panel "Leading the Charge Against Antimicrobial Resistance: Partnering to Meet the Challenge" held on Capitol Hill in Washington, D.C., to discuss the issue with lawmakers and recommend ways the National Institutes of Health and Centers for Disease Control can help.
Dr. Patel is director of the Mayo Clinic Infectious Diseases Research Laboratory, the Elizabeth P. and Robert E. Allen Professor of Individualized Medicine, and a professor of medicine and microbiology in the Mayo Clinic College of Medicine and Science.