Roger White, M.D., reaches 50 year-anniversary milestone at Mayo Clinic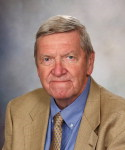 Roger White, M.D. (I '68, ANES '70), Department of Anesthesiology and Perioperative Medicine at Mayo Clinic in Rochester, reached his 50-year milestone anniversary at Mayo Clinic. The article below was published in the Oct. 2, 1970 issue of Mayovox when Dr. White joined the Mayo Clinic staff.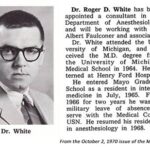 Dr. White is a professor of anesthesiology in the Mayo Clinic College of Medicine and Science.