Rory Smoot, M.D., is vice chair of research, Department of Surgery, Mayo Clinic in Rochester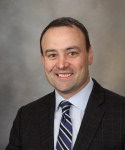 Rory Smoot, M.D. (MED '05, S '08, CI '10, S '12), Division of Hepatobiliary and Pancreas Surgery at Mayo Clinic in Rochester, is now vice chair of research for the Department of Surgery. He has a joint appointment in the Department of Biochemistry and Molecular Biology, with teaching and examining privileges in clinical and translational science at Mayo Clinic Graduate School of Biomedical Sciences.
Dr. Smoot is an associate professor of biochemistry and molecular biology and surgery in the Mayo Clinic College of Medicine and Science.