Rory Smoot, M.D., receives funding from Mayo Clinic Center for Biomedical Discovery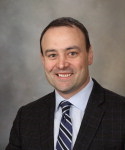 Rory Smoot, M.D. (MED '05, S '08, CI '10, S '12), Division of Hepatobiliary and Pancreas Surgery at Mayo Clinic in Rochester, received pilot funding from the Center for Biomedical Discovery for the proposal "Augmenting YAP Activation to Accelerate Liver Regeneration." This funding will support his team's evaluation of novel therapeutics to drive liver regeneration in mouse hepatectomy models.
Dr. Smoot is an assistant professor of surgery in the Mayo Clinic College of Medicine and Science.