Roxana Dronca, M.D., is chair of Division of Hematology and Oncology at Mayo Clinic Florida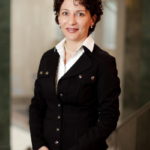 Roxana Dronca, M.D. (HEMO '10, CTSA '15), is the new chair of the Division of Hematology and Oncology at Mayo Clinic in Florida.
Dr. Dronca was the director of the Internal Medicine Residency Program in the Department of Oncology at Mayo Clinic in Rochester and associate program director for the Hematology-Oncology Fellowship. She succeeds Asher Chanan-Khan, M.D., M.B.B.S. (HEMO '16), who chaired the Florida division since 2011.
Dr. Dronca joined the Mayo Clinic staff in 2010. She specializes in melanoma and genitourinary cancers and has a strong interest in immunotherapy. Dr. Dronca is studying impaired immunity in advanced cancer patients and co-leads, with national and international collaborators, a mechanism-based biomarker discovery program at Mayo Clinic that is supported by federal and private funding. She was the Mayo Clinic principal investigator on clinical trials of pembrolizumab. These trials led the FDA to approve the agent for treating patients with advanced melanoma. Her work has resulted in publications in The New England Journal of Medicine, Lancet, JAMA and other journals. Much of this work has demonstrated the efficacy of immunotherapy in certain malignancies, thereby changing the standard of care.
Dr. Dronca is an associate professor of oncology in the Mayo Clinic College of Medicine and Science. She completed a two-year Mayo Clinic Foundation Scholarship to gain expertise in cellular and tumor immunology, and received a Mayo Clinic KL2 Mentored Career Development Program Award for her work on the bioperiodicity of immune response in metastatic melanoma. She completed a fellowship in hematology/oncology at Mayo Clinic School of Graduate Medical Education in Rochester.