S. Ann Colbourne, M.D., elected as chair of Board of Directors, NorQuest College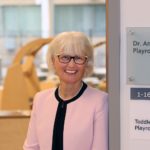 S. Ann Colbourne, M.D. (I '93, ADGM '94), was elected as the chair of the Board of Governors of NorQuest College in Edmonton, Alberta, Canada. She has been a public member of the board since March 2017.
Dr. Colbourne is a professor of medicine at the University of Alberta. She recently retired as senior medical director of Transformation and Innovation at Alberta Health Services.
She also is a member of the Mayo Clinic Alumni Association Board of Directors.
Dr. Colbourne has received awards including the President's Excellence Award from Alberta Health Services, the Plummer Society Award of Excellence from Mayo Clinic and a Rhodes Scholarship from the University of Oxford, England.