Sandra Birchem, D.O., retires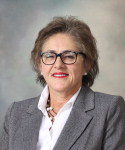 Sandra Birchem, D.O. (CV '07), Division of Community Cardiology at Mayo Clinic in Rochester, will retired on Jan. 4, 2019.
Dr. Birchem joined the cardiology staff in 2007 and spent the majority of her time in Albert Lea, Minnesota, growing the cardiology practice in Southeastern Minnesota. She served as chief of staff of Mayo Clinic Health System in Albert Lea.
Dr. Birchem originally pursued a career as a nurse and nurse practitioner before attending Des Moines University for her doctor of osteopathic medicine degree. She completed internal medicine residency at Iowa Methodist Medical Center and a cardiovascular fellowship at Mercy Medical Center.