Sandra Kopp, M.D., is ASA representative to AAOS Workgroup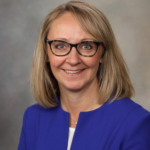 Sandra Kopp, M.D. (I1 '00, ANES '03), chair, Division of Community Anesthesiology, Department of Anesthesiology and Perioperative Medicine at Mayo Clinic in Rochester, was selected as an American Society of Anesthesiology representative to the American Academy of Orthopaedic Surgeons Workgroup.
Dr. Kopp is a professor of anesthesiology in the Mayo Clinic College of Medicine and Science.