Sanjeev Sethi, M.D., Ph.D., receives Jacob Churg award from Renal Pathology Society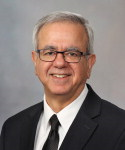 Sanjeev Sethi, M.D., Ph.D. (LABM '05), Division of Anatomic Pathology at Mayo Clinic in Rochester, received the Renal Pathology Society's Jacob Churg award. He was recognized for major contributions to the field of nephropathology.
Dr. Sethi is a professor of laboratory medicine and pathology in the Mayo Clinic College of Medicine and Science.