Shigao Chen, Ph.D., inducted as fellow of National Academy of Inventors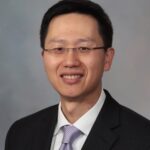 Shigao Chen, Ph.D. (BPHY '02, PHYS '04), Department of Radiology at Mayo Clinic in Rochester, was inducted as fellow of the National Academy of Inventors, the highest professional distinction accorded to academic inventors. Dr. Chen is distinguished for his contributions to the field of medical ultrasound imaging, particularly for the technical development of novel imaging biomarkers for clinically relevant problems. He has 38 patents and 28 pending patent applications around the world. His inventions enable noninvasive, low-cost, and accurate diagnosis and quantification of liver steatosis, hepatic fibrosis and cancer microvascular signature.
Technologies Dr. Chen developed have been licensed by six leading ultrasound companies, including GE and Samsung, implemented on clinical ultrasound scanners, and widely used in practice around the world to help patients.
Dr. Chen is a professor of radiology and associate professor of biomedical engineering in the Mayo Clinic College of Medicine and Science.