Stephen Kopecky, M.D., is consult service director, ED/SMC, Rochester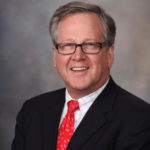 Stephen Kopecky, M.D. (I '84, CV '87), Division of Preventive Cardiology, Department of Cardiovascular Medicine at Mayo Clinic in Rochester, is the consult service director of the emergency department at Mayo Clinic Hospital – Saint Marys Campus.
Dr. Kopecky is a professor of medicine in the Mayo Clinic College of Medicine and Science.