Sundeep Khosla, M.D., receives Jacobaeus Prize from Novo Nordisk Foundation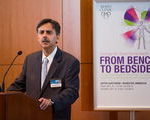 Sundeep Khosla, M.D. (ENDO '88), Division of Endocrinology, Diabetes, Metabolism, & Nutrition, Department of Medicine at Mayo Clinic in Rochester, received the Jacobaeus Prize from the Committee on Endocrinology and Metabolism of the Novo Nordisk Foundation.
The annual prize is awarded to an international researcher in recognition of contributions to physiology or endocrinology, and is accompanied by an award of more than $230,000 intended to fund the awardee's research.
Dr. Khosla is a council member of the National Institute of Arthritis and Musculoskeletal and Skin Diseases, and the director of the Mayo Clinic Center for Clinical and Translational Science. He also is a professor of medicine and physiology in the Mayo Clinic College of Medicine and Science.