Tanios Bekaii-Saab, M.D., named medical director of Mayo Clinic Cancer Center Clinical Research Office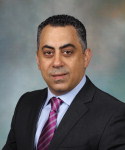 Tanios Bekaii-Saab, M.D. (HEM '16), Division of Hematology and Medical Oncology at Mayo Clinic in Arizona, was named medical director of Mayo Clinic Cancer Center's Clinical Research Office. Dr. Bekaii-Saab succeeds Shaji Kumar, M.D. (I '99, HEMO '03), Division of Hematology at Mayo Clinic in Rochester, who has served as medical director of the Cancer Center Clinical Research Office for seven years, overseeing progressive growth of cancer clinical trials.
Mayo Clinic Cancer Center is a National Cancer Institute (NCI)-designated Comprehensive Cancer Center recognized as a single cancer center serving Mayo Clinic sites in Arizona, Florida, Minnesota and the Mayo Clinic Health System. Cancer interventional clinical trials and related research are a core component of the Cancer Center's research activities. The Cancer Center CRO is primarily responsible for the operational aspects of interventional clinical trials for cancer from development to conduct and oversight.
As medical director, Dr. Bekaii-Saab will oversee the operational and financial performance of the Cancer Center CRO. He will ensure that the services provided by the CRO are utilized in an efficient and effective manner consistent with institutional priorities and compliant with the expectations of the NCI's Cancer Center Support Grant (CCSG).
Dr. Bekaii Saab is a professor of medicine in the Mayo Clinic College of Medicine and Science and co-leader of the Mayo Clinic Cancer Center Gastrointestinal Cancer Program. He is vice chair and section chief for medical oncology in the Hematology/Oncology Division in the Internal Medicine Department at Mayo Clinic's campus in Arizona.
He is chair of Academic and Community Cancer Research United (ACCRU), a cancer research network conducting clinical trials that translate the latest discoveries into new therapies for cancer treatment and symptom management. The ACCRU Research Coordinating Center is based at Mayo Clinic Cancer Center.
Additionally, Dr. Bekaii-Saab is co-leader of the Hepatobiliary Cancer Sub-committee of the Alliance for Clinical Trials in Oncology and vice-chair for the National Cancer Institute's Hepatobiliary Task Force. He is also a member of the American Society of Clinical Oncology (ASCO) Scientific Program Committee for Colorectal and Anal Cancers.
After earning his medical degree from the American University of Beirut in Lebanon, Dr. Bekaii-Saab completed a residency in internal medicine at Indiana University Medical Center in Indianapolis. He went on to complete fellowships in clinical pharmacology, experimental therapeutics and hematology/oncology at Tufts University/New England Medical Center in Boston. He joined Mayo Clinic in 2016 after 13 years on staff at The Ohio State University in Columbus.
Dr. Bekaii-Saab sits on the editorial board of the Journal of the National Cancer Institute. He has authored or co-authored more than 500 peer-reviewed publications, abstracts and book chapters, including papers in such journals as Lancet Oncology, Journal of Clinical Oncology, JAMA, Journal of the National Cancer Institute, Annals of Oncology, and Clinical Cancer Research.