Thulasee Jose, M.D., receives first place award in Health System Science at 2019 AMA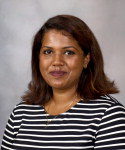 Thulasee Jose, M.D. (ANES '19), research fellow in the Department of Anesthesiology and Perioperative Medicine at Mayo Clinic in Rochester, received first place in the Health System Science category for her abstract "Use Research Symposium of Electronic Nicotine Delivery Devices by Patients: Medical Informatics Solution to optimize Electronic Health Records at a Large U.S. Hospital" at the 2019 AMA. This is a national competition including residents and fellows from all specialties, held in conjunction with the 2019 AMA Expo meeting in San Diego.
Dr. Jose led the team at Mayo Clinic that developed and deployed a new tool in Epic to document electronic cigarette use by Mayo Clinic patients.