Timothy J. Nelson, M.D., Ph.D., named director, Research and Innovation, Mayo Clinic Health System in northwest Wisconsin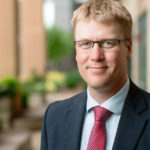 Timothy J. Nelson, M.D., Ph.D. (I '08, CI '10, CV '10), Division of General Internal Medicine at Mayo Clinic in Rochester, has been named the director of Research and Innovation for Mayo Clinic Health System in northwest Wisconsin.
The newly created position will support collaboration between Mayo Clinic in Rochester and Mayo Clinic Health System. Dr. Nelson will develop a cutting-edge research program for the northwest Wisconsin region of Mayo Clinic Health System, focused on expanding clinical trials and research; and will foster greater research opportunities for the University of Wisconsin-Eau Claire students and faculty.
Dr. Nelson, a native of Osseo, Wisconsin, is renowned for his pioneering research involving cardiovascular regeneration using bioengineered stem cells. His research interests include cardiac regenerative medicine and bioengineering patient-specific pluripotent stem cells.
"I am honored and excited to be part of this trailblazing initiative to further establish the Chippewa Valley as a leader in health care innovation – not just in the region or state but as a nationwide example of collaboration," says Dr. Nelson. "By working together, Mayo Clinic, Mayo Clinic Health System and UW-Eau Claire, can apply our collective expertise and passion for learning and discovery to address unmet medical needs and advance the development of health care technologies and treatments. We also can increase scientific scholarship opportunities for faculty and college students."
Dr. Nelson has joint appointments at Mayo Clinic in the departments of Pediatric and Adolescent Medicine, Molecular Pharmacology and Experimental Therapeutics, and Cardiovascular Medicine. He is director of the Todd and Karen Wanek Family Program for Hypoplastic Left Heart Syndrome and medical director of the Regenerative Medicine Consult Service of the William J. von Liebig Transplant Center. He is an associate professor of medicine and pharmacology in the Mayo Clinic College of Medicine and Science.