Timothy Morgenthaler, M.D., receives Mayo Clinic Diamond Quality Fellow Lifetime Achievement Award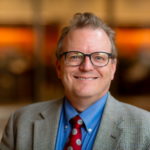 Timothy Morgenthaler, M.D. (I '91, THD '94), chief patient safety officer at Mayo Clinic, received a 2018 Mayo Clinic Diamond Quality Fellow Lifetime Achievement Award. Honorees are nominated by peers and selected by Mayo Clinic Quality Academy leaders. Diamond Quality Award recipients demonstrate a long-standing commitment to quality improvement.
Dr. Morgenthaler has been instrumental in several quality initiatives to improve and measure patient safety, standardize care, and reduce the risk of patient or family violence toward health care staff. He led efforts to develop Mayo Clinic's Venous Thromboembolism Prevention Plan, which was recognized by the Centers for Disease Control, and played a significant role in reducing perioperative risks of obstructive sleep apnea, creating safe order sets for hospital care, developing the preventable harm metric for all Mayo sites, standardizing patient safety incident management and developing Mayo's top 10 patient safety risk lists.
Dr. Morgenthaler was associate chair for quality in the Department of Medicine. He is now vice chair of the Minnesota Alliance for Patient Safety, an organization that works with providers, associations, regulators, purchasers, consumers, academia and insurers to improve patient safety. He also serves on the board of directors for Mercy Health System in St. Louis, where he chairs the Quality and Safety Commitee.
Dr. Morgenthaler is a consultant in the Division of Pulmonary and Critical Care Medicine at Mayo Clinic in Rochester and a professor of medicine in the Mayo Clinic College of Medicine and Science.