Vidhu Anand, M.B.B.S., presents abstracts at AME and NASCI, authors four manuscripts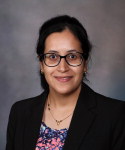 Vidhu Anand, M.B.B.S. (CV '21), Department of Cardiovascular Medicine at Mayo Clinic in Rochester, presented three abstracts at AME (American Society of Echocardiography) and NASCI (North American Society for Cardiovascular Imaging) in 2020 and was first author on four manuscripts including "Prognostic Value of Peak Stress Cardiac Power in Patients with Normal Ejection Fraction Undergoing Exercise Stress Echocardiography" published in European Heart Journal.
She also was promoted to assistant professor of medicine in the Mayo Clinic College of Medicine and Science.