Winston Tan, M.D., is medical director, MCSHS NP PA hem/onc fellowship, Florida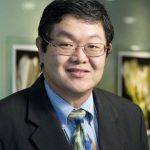 Winston Tan, M.D. (HEMO '00), Division of Hematology and Medical Oncology, Mayo Clinic in Florida, is now medical director for the Mayo Clinic School of Health Sciences Nurse Practitioner Physician Assistant Fellowship in Hematology/Oncology on the Florida campus.
Dr. Tan is a professor of medicine in the Mayo Clinic College of Medicine and Science.