Y.S. Prakash, M.D., Ph.D., is associate dean for Mayo Clinic Research, Midwest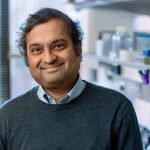 Y.S. Prakash, M.D., Ph.D. (PHYS '94, ANES '96, I1 '03, ANES '06), chair, Department of Physiology and Biomedical Engineering at Mayo Clinic in Rochester, is now associate dean for Research, Midwest.
Dr. Prakash is a professor of anesthesiology and physiology in the Mayo Clinic College of Medicine and Science.