Y.S. Prakash, M.D., Ph.D., selected as editor-in-chief, Comprehensive Physiology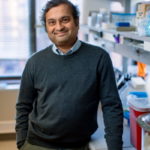 Y.S. Prakash, M.D., Ph.D. (PHYS '94, ANES '96, I-1 '03, ANES '06), chair, Department of Physiology and Biomedical Engineering, with a joint appointment in the Department of Anesthesiology and Perioperative Medicine at Mayo Clinic in Rochester, was selected as the new editor-in-chief of Comprehensive Physiology. The publication of the American Physiological Society is the most authoritative and comprehensive collection of physiology information assembled. Dr. Prakash will take over as editor-in-chief in July 2019.
Dr. Prakash is a professor of anesthesiology and physiology in the Mayo Clinic College of Medicine and Science.