Mayo-built hernia repair model helps surgeons in Ghana hone skills
Take some fabric, yarn and plastic tubing, glue it together just so, and you have an anatomically correct, low-cost, abdominal hernia repair model that surgeons around the world can use for training.
"Simple things can have a big impact," says Muhammad Zeb, M.B.B.S. (Surgery Research '17), a surgeon who just completed a two-year research fellowship in Rochester. "We made a simple model, and it has helped people learn operations thousands of miles away, where life is harsh and opportunities are scarce."
In March, about 30 doctors in Ghana used the model to learn how to apply mesh to repair hernias. The surgeons found the training so helpful that the model has become part of the medical student teaching curriculum and the formal training at Korle Bu Hospital in Accra, Ghana.
That's exactly what the group developing the model hoped to accomplish, says Dr. Zeb, who was a member of the research team headed by David Farley, M.D. (S '94), Surgery, in Rochester. Team members call themselves the Farley Innovative Research Surgical Team, or FIRST. The group of graduate and medical students, volunteers, audiovisual engineers and surgical residents works with Dr. Farley to develop surgical education using simulation, video, online resources and fabric.
Becoming a good surgeon requires extensive practice and repetition, but simulation education and commercial training models are expensive. Dr. Farley first began experimenting with low-cost paper models as a medical student in the 1980s, borrowing ideas from surgical and anatomy educators. Over the years, he has used felt, balloons, plastic, cardboard and other materials to develop low-cost materials that trainees can use to finesse their techniques. As the program director for the large general surgery training program at Mayo Clinic, Dr. Farley has had both the future surgeons who needed training and the students and research assistants to create inexpensive but anatomically correct models. Almost  50 models of the neck, abdomen and groin are being used in the Mayo Clinic Multidisciplinary Simulation Center in Rochester to teach surgical procedures to residents.
"Everything high-tech tends to be expensive and unaffordable," says Dr. Farley. "I have always gravitated to things that are mobile, cheap and effective. Low-cost models are not perfect but, for trainees using basic surgical instruments and preparing to learn basic techniques, they are optimal."
The health problem of hernias
The hernia model was developed to help address a major health issue in some areas of the world. While inguinal hernias are readily repaired in the U.S., they present a huge medical burden in underdeveloped countries, where access to health care is limited and trained surgeons are scarce.
"Many people die each year due to complications from unrepaired hernias," Dr. Zeb says. "Many people are unable to work due to their large hernias. In a developed country, hernias are identified early and treated promptly. While there are many outstanding and talented surgeons in underdeveloped countries, their numbers pale in comparison to the sheer volume of patients needing surgical care."
It's important that surgeons in developing countries learn the current standard technique of using mesh to repair a hernia, Dr. Zeb says. "Mesh lowers the rate of hernia recurrence after repair, and the mesh makes it easier to fix larger hernias — something that is common in underdeveloped regions. Since the standard of care is to use mesh to repair the hernias, our aim was to teach tension-free hernia repair using mesh."
The perfect model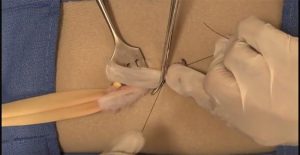 Staff from Incision Academy, a Netherlands-based online education platform, approached Dr. Farley, a veteran of many international collaborations, about developing hernia repair education. Dr. Farley charged his research team with creating a low-cost model, and Dr. Zeb volunteered to lead the project.
"We tried to create a model in which all of the critical steps of open inguinal hernia repair could be performed," Dr. Zeb says. "At the same time, the model had to be inexpensive, compact and easily transported."
The team built a prototype and experimented with different materials, settling on felt fabric, yarn, plastic tubing and glue.
"While Dr. Farley historically made all of his models sewing the material together, we now use silicone glue because it is much faster," Dr. Zeb says.
The model was tested first with Mayo medical students and several hundred high school students "to see if it was useful in helping them understand and perform hernia repairs," Dr. Zeb says. Then it was sent to surgeons in Ghana. After more refinements, the model was ready for the March workshop.
The Farley Innovative Research Surgical Team also developed two accompanying videos. One explains, in about two minutes, how to build the models. The other gives step-by-step instructions on performing a mesh hernia repair using the model.
Why cloth is better than beef
Because supplies of human and animal cadavers are limited and commercially built models are expensive, surgical training programs around the country improvise. Dr. Zeb says his team and others have practiced laparoscopically peeling rinds off tangerines, used clay to teach liver surgery and salvaged animal parts, such as pig hearts and intestines, from meat-packing firms to practice surgical techniques.
"The advantage of fabric is you can customize the model, make it quickly and inexpensively, and there is little to no cleanup and no bad smells," Dr. Zeb says.
"I have attended several surgical and educational conferences, and our models of fabric are a novelty that generates great interest in those who train surgeons. All of us are looking for ways to better train our students, residents and fellows in less time, with less expense, and affording greater recall," Dr. Zeb says.
Ghana rollout
At the recommendation of the Incision Academy, the model was presented at the March surgical conference in Ghana, which was attended by about 35 general surgery residents, surgeons and primary care physicians. Dr. Zeb says he was initially worried that participants expecting a high-tech experience would be disappointed by the simple Mayo-built model.
"They were amazed to see how a low-cost model can have accurate anatomy and can be used to learn surgical procedures," Dr. Zeb says. "The participants were really engaged. They were careful in handling the model and tried to learn all the steps of procedure."
Lifelong learning
Dr. Zeb, a native of Pakistan whose father is a surgeon and inspired his career choice early on, came to Mayo in May 2015. In July 2017, he joined the University of South Dakota general surgery residency program, where he is conducting simulation education sessions for residents.
"I have always wanted to come to the U.S., as it is a world leader in health care," Dr. Zeb says. "I was lucky enough to be awarded an opportunity to work at Mayo, specifically with Dr. Farley and his research team, whose work is unique and contributing significantly to training surgeons."
"Mayo Clinic has provided a great learning environment for me and has equipped me with the skills that enabled me to work on this project. The skills that I have learned here as a research fellow would not have been possible anywhere else," Dr. Zeb says.
Creating a usable hernia repair model from scratch also left its mark on Dr. Zeb. "It had a big impact on me when I saw surgeons in Ghana hungry to learn and trying to make the most out of the workshop. I saw that grit, motivation and the drive in them that will continue to inspire me to work on projects like this," Dr. Zeb says.