Investigators of the Year announced at Mayo Clinic in Arizona, Florida
Mayo Clinic has announced Investigators of the Year for Mayo Clinic in Arizona and Florida.
Todd Schwedt, M.D. (HEAD '06), Department of Neurology, was named Arizona Investigator of the Year; and Alfredo Quinones-Hinojosa, M.D. (NS '16), Department of Neurologic Surgery, was named Florida Investigator of the Year. These awards honor researchers who have made significant advances that have strongly influenced their fields of research.
Todd Schwedt, M.D., Investigator of the Year, Mayo Clinic in Arizona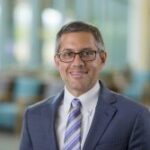 Dr. Schwedt, M.D. is a professor of neurology, Mayo Clinic College of Medicine and Science, and medical director of the Clinical Studies Unit. He is a consultant and vice chair of Research in the Department of Neurology at Mayo Clinic in Arizona.
Dr. Schwedt is an internationally renowned leader in migraine and post-traumatic headache brain imaging and clinical research. He is the principal investigator of a research team that investigates migraine, medication overuse headache, and post-traumatic headache due to mild traumatic brain injury.
His groundbreaking work, supported by grants from the Department of Defense and the NIH, has identified imaging features that distinguish chronic migraine from episodic migraine and migraine from post-traumatic headache.
Dr. Schwedt also led a large multicenter, randomized clinical trial investigating treatments for patients who have chronic migraine with medication overuse. The study results, funded by the Patient-Centered Outcomes Research Institute, will help clinicians and patients choose the best treatment approach for this common and disabling headache type.
Dr. Schwedt is principal investigator of the American Registry for Migraine Research (ARMR), a large multicenter headache registry and biorepository for patients with migraine and other headache types. The registry provides large, detailed datasets that can help physicians and researchers ascertain the causes, characteristics and treatment of migraines and other types of headaches.
His peers say his imaging discoveries, combined with the data he has amassed from his studies and the registries, are transforming the treatment of headache disorders.
"Using data from ARMR, the registry he co-developed, he led research that highlighted the spectrum of disability among subgroups of episodic and chronic migraine that will likely lead to sweeping changes to the classification of chronic migraine," says David Dodick, M.D. (I1 '91, NS '94), Department of Neurology, in his nomination of Dr. Schwedt for Mayo's top research accolade in Arizona.
"It is an honor to recognize Dr. Schwedt as Arizona Investigator of the Year. His notable achievements continue to impact migraine research and are paving the way to improving the lives of patients suffering from various headache disorders," says Diane Jelinek, Ph.D. (IMM '91), dean for Research at Mayo Clinic in Arizona.
Dr. Schwedt serves on the Executive Committee of the board of directors for the American Headache Society, the Classification Committee of the International Headache Society, the board of directors for the American Migraine Foundation, and the Scientific Advisory Board for the International Concussion Society. He chairs the American Headache Society's Research Committee and is leading a project involving international headache leaders and the NIH to develop research priorities in the headache field.
Dr. Schwedt is a leading scholar and lecturer in headache medicine who has authored over 150 publications in peer-reviewed journals and twice won the Harold Wolff Award from the American Headache Society.
"I am passionate about improving the lives of people with headache through research, education and patient care, and I feel so fortunate to work at Mayo Clinic. It is an incredible feeling to know my colleagues and institution highly value our research," says Dr. Schwedt. "I want to express sincere gratitude to my mentors, especially Dr. David Dodick, who serves as a perfect example of how to succeed as a clinician, researcher, educator, leader and mentor. I also want to recognize my exceptional research team of scientists (Catherine Chong, Ph.D.; Simona Nikolova Ph.D., and Gina Dumkrieger Ph.D.), clinician collaborators and research coordinators (Michael Leonard, Teri Radam and Nicole Williams) who are clearly sharing this Investigator of the Year Award with me."
Alfredo Quinones-Hinojosa, M.D., Investigator of the Year, Mayo Clinic in Florida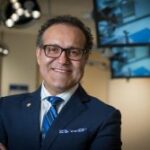 Dr. Quinones-Hinojosa is the William J. and Charles H. Mayo Professor and chair of the Department of Neurologic Surgery at Mayo Clinic in Florida. He leads the Brain Tumor Stem Cell Research Laboratory and is a world-renowned neurosurgeon-scientist. Those who work closely with him affectionately call him "Dr. Q."
"His passion for research and patient care is nothing short of what the Mayo brothers might have envisioned when recruiting their renowned colleagues," says Antonio Forte, M.D., Ph.D. (PLS '18), in a nomination letter, calling Dr. Quinones-Hinojosa a role model surgeon-scientist. "His personality is engaging, inspiring and energetic, which breathes life into his mission of curing brain cancer."
Dr. Quinones-Hinojosa's research focuses on brain tumors and cell migration, health care disparities for minorities, and outcomes for neurosurgical patients. His motto is "team science, find cures, give hope."
The operating room is often an extension of his laboratory. He leads NIH-funded research and has received multiple grants over the past two decades to find a cure for brain cancer, and he has received extramural funding from the Howard Hughes Medical Institute, the Robert Wood Johnson Foundation and the Maryland Stem Cells Research Fund.
His clinical innovations include holding several patents for medical devices. One such device is for electrophysiological brain mapping during awake craniotomy procedures.
"We are proud to recognize Dr. Quinones-Hinojosa for this prestigious Mayo Clinic award," says Tushar Patel, M.B., Ch.B. (I '93, GI '96), dean for Research in Florida. "His tremendous research accomplishments and ability to lead by example showcase the quality of his work and his personal character."
Dr. Quinones-Hinojosa has published more than 500 peer-reviewed papers. His research studies have appeared in high-impact journals such as Science Translational Medicine, Nature, Nature Biomedical Engineering, and Cancer Research. He serves on the editorial boards of multiple scientific journals, has authored and edited more than 10 books, and has written more than 200 chapters on brain tumors and stem cells.
He served on the National Cancer Institute's Board of Scientific Counselors for Clinical Sciences and Epidemiology, and he is an active member of the American Medical Association, the American Association for the Advancement of Science, the American Association of Neurological Surgeons, the American College of Surgeons, the American Society for Clinical Oncology, and the Society of Neurological Surgeons.
Dr. Quinones-Hinojosa has honors including:
Physician Hero by the Nifty Fifty USA Science and Engineering Festival.
Cortez de Cadis Prize for Surgery by the Spanish Royal Academy of Medicine and Surgery.
President Franklin D. Roosevelt Four Freedoms Award.
The 101 List of the Most Influential Latinos by Latino Leaders Magazine.
Woodrow Wilson Award
He also was named among Forbes' "Most Brilliant Minds in the World." He is an international speaker in his field and holds honorary degrees from numerous academic institutions around the world.
Dr. Quinones-Hinojosa obtained a teaching degree in social sciences and humanities in Mexicali, Mexico. He received his B.A. in psychology and neurosciences from the University of California, Berkeley, and his medical degree from Harvard Medical School. He completed his neurosurgery residency at the University of California, San Francisco, where he also fulfilled a postdoctoral fellowship in developmental and stem cell biology. Today, he continues to mentor junior faculty and trainees in the Department of Neurosurgery, the Department of Neurology, and other surgical and research areas at Mayo Clinic in Florida.
"It's an honor for me to accept the Florida Investigator of the Year award, but I share this recognition with the entire team of scientists, clinicians and staff in our different departments, as it would not be possible without them," says Dr. Quinones-Hinojosa. "Our patients who donate tissue make it possible to build a bridge from the operating room to the lab. We give them hope, and they give us courage to keep going, never giving up on finding a cure for humanity."
Fame has followed Dr. Q on his medical journey. In 2009, he was featured in "Hopkins," an ABC drama that allowed viewers an up-close and personal look inside the operating room at The Johns Hopkins Hospital, where he worked before joining Mayo Clinic. In 2020, Dr. Quinones-Hinojosa was featured in a documentary series, "The Surgeon's Cut," on Netflix, which won an Emmy Award in 2021. He is also the subject of an upcoming movie about his life, to be developed by Plan B Entertainment (Brad Pitt's production company), based on the book "Becoming Dr. Q."