Mayo Clinic in Arizona and Florida name Investigators of the Year
Mayo Clinic named Investigators of the Year at Mayo Clinic in Arizona and Florida. This award recognizes researchers who have made significant advances that have strongly influenced their fields of research.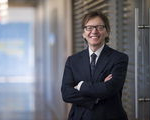 David Dodick, M.D. (I1 '91, N '94), Department of Neurology at Mayo Clinic in Arizona, is director of Mayo's headache and concussion programs and is a professor of neurology. For more than 25 years his research efforts have been devoted to understanding migraine and related disorders and translating those findings into enhanced care for patients.
He has been the principal investigator of more than 100 clinical trials in headache and the overall national/international principal investigator of more than 15 multicenter trials that have led to the approval of medications including triptans, onabotulinum toxin A, CGRP antibodies and neuromodulation devices for the treatment and prevention of migraine and cluster headache.
Dr. Dodick is co-investigator of a National Institutes of Health grant investigating detection, diagnosis and risk factors for chronic traumatic encephalopathy. He is director of the American Registry for Migraine Research and International Registry for Migraine Research. He also is a Mayo co-investigator of a $10 million grant from the Department of Defense to investigator post-traumatic headache and co-principal investigator of an $8 million grant from the patient-Centered Outcomes Research Institute to evaluate the optimal treatment of medication overuse headache in a large pragmatic national multicenter clinical trial.
He has served in positions including president, American Headache Society; president, International Headache Society; founder and chair, Global Patient Advocacy Coalition of the International Headache Society; chair, International Headache Academy; chair, American Migraine Foundation; and chair, American Brain Foundation. He is chair and president-elect of the International Concussion Society.

Michael Wallace, M.D. (GI '03), Division of Gastroenterology and Hepatology, Department of Internal Medicine at Mayo Clinic in Florida, is a professor of medicine and director of the Digestive Diseases Research Program at Mayo Clinic in Florida. His research focuses on advanced imaging systems for the detection and treatment of early cancers and precancerous lesions of the gastrointestinal tract. He researches and treats Barrett's esophagus, colorectal polyps, pancreatic cancer and colon cancer. He is working on ways to detect cancer and precancerous growths earlier, in less invasive ways.
Dr. Wallace has served as chair of the Division of Gastroenterology and Hepatology at Mayo Clinic in Florida and director of research, Gastroenterology Section, Department of Internal Medicine. He is the immediate past president of the Florida Gastroenterology Society and editor-in-chief of Gastrointestinal Endoscopy.
He was named Mentor of the Year for the American Society for Gastrointestinal Endoscopy and for the American Gastroenterological Association. He has published in almost 350 peer-reviewed research journals.