Mayo Clinic names 2020 Florida and Arizona Investigators of the Year
Alan Fields, Ph.D. (CBS '03), was named Mayo Clinic's Florida Investigator of the Year and Lisa Rimsza, M.D. (HEMP '15), was named Mayo Clinic's Arizona Investigator of the Year. These awards honor researchers at Mayo's southern sites who have made significant advances that have strongly influenced their fields of research.
Alan Fields, Ph.D., Florida Investigator of the Year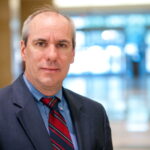 Dr. Fields is a consultant in the Department of Cancer Biology and the Monica Flynn Jacoby Professor of Cancer Research at Mayo Clinic. A cancer biologist and world-renowned scientist, he leads a laboratory that develops and studies the molecular and genetic mechanisms that drive lung tumor formation, to identify new targets for cancer therapy. His research has received continuous National Cancer Institute grant funding for more than 25 years. His research program is focused on the signaling pathways key to tumors of the lung, and more recently, of the ovaries, pancreas and brain. He and his colleagues were the first to discover the connection between a cancer-causing gene called protein kinase C iota (PKCiota) and the initiation, promotion and spread of lung cancers.
He is an influencer and leader in his field, nationally and internationally, in the treatment of pulmonary cancers. His research findings have resulted in multiple clinical trials and treatment approaches, and showcase how discoveries translate from the bench to the bedside for unmet medical needs of patients around the world.
Dr. Fields is a member of the Mayo Clinic Cancer Center Molecular Pharmacology and Experimental Therapeutics Program; Mayo Clinic in Florida Clinical Cancer Research Committee; Executive Committee and Research Committee. He has served on multiple study sections of the NIH, including as chair of the Cancer Etiology study section. Dr. Fields has authored almost 120 peer-reviewed journal articles, and his papers have appeared in such journals as Nature, Cancer Cell, Cancer Research, and Oncogene. He has served as an editorial board member of Anti-Cancer Research, Current Chemical Biology, Journal of Biological Chemistry, and PLOS ONE, and is an ad hoc reviewer of many other journals.
Dr. Fields graduated from George Washington University with a Bachelor of Science degree in chemistry and biology. He received his Ph.D. from the Department of Pharmacology and Experimental Therapeutics at The Johns Hopkins University School of Medicine, and his postdoctoral fellowship from the Johns Hopkins Oncology Center, Department of Medicine. He has served as a mentor for many young investigators in their early career development.
Lisa Rimsza, M.D., Arizona Investigator of the Year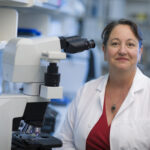 Dr. Rimsza is the Getz Family Research Professor, a consultant Division of Hematopathology in the Department of Laboratory Medicine and Pathology and a professor of laboratory medicine and pathology at Mayo Clinic in Arizona.
The founder and director of Mayo Clinic's Molecular Diagnostic Laboratory in Arizona, Dr. Rimsza has been transforming lymphoma care through her research for more than 20 years. Her research focuses on the clinical assay development in B-cell non-Hodgkin's lymphoma, HIV-related lymphomas, and immune evasion and oncogene dysregulation in lymphomas
Much of Dr. Rimsza's work involves identifying variations in lymphoma cells. She holds a number of patents for methods to establish lymphoma cell variations and predict patient survival associated with them. One of Dr. Rimsza's patents led to the invention of a genomic test that guides diagnosis and treatment of diffuse large B-cell lymphoma, a common type of the disease. The Arizona molecular diagnosis lab was the first to offer the test, known as Lymph2Cx.
Dr. Rimsza has also developed a technology involving genomic testing of a B-cell lymphoma known as mantle cell lymphoma. This lymphoma type is the result of abnormal changes in immune system B-cells in the outer edge, or "mantle zone," of a lymph node follicle.
Internationally renowned, Dr. Rimsza serves as the primary investigator for the Lymphoma and Leukemia Molecular Profiling Project, an international consortium focused on using genomic studies as a platform to better understand disease biology, develop more precise classification and prognosis, and identify and characterize therapeutic targets with the goal to improve patient survival. She is a member of the Lymphoma Research Foundation's Scientific Advisory Board and helps to guide the foundation's research portfolio. Dr. Rimsza has also contributed significantly to the area of biobanking. She has developed a biobank initiative for lymphoma at Mayo Clinic in Arizona in which both serum and tissue specimens are archived for future use.