Mayo Clinic has been named to DiversityInc's 2020 Top Specialty List for Hospitals and Health Systems ranking.
The DiversityInc survey assesses how U.S. companies with more than 1,000 staff members manage diversity.

"For more than 150 years, people from different backgrounds have turned to Mayo Clinic for hope and healing, and we know that each patient's journey is unique," says Gianrico Farrugia, M.D. (I '91, GI '94), Mayo Clinic's president and CEO. "Our goal is to be a leading model of diversity and inclusion for our staff and the patients and communities we serve."
To participate in the DiversityInc's Top Hospitals and Health Systems ranking, Mayo Clinic  had to submit a detailed self-assessment, including practice and outcomes. Through the survey, organizations in the health care industry were ranked on six areas: human capital diversity metrics, leadership accountability, talent programs, workplace practices, supplier diversity and philanthropy.
"It is an honor for Mayo Clinic to be recognized for its work and progress in diversity and inclusion," says Lor Lee, director of Mayo Clinic's Mayo Clinic's Office of Diversity and Inclusion. "Over the past year, we have increased the number of department  diversity leaders at Mayo Clinic to 120 across the enterprise. Their primary role is to advance department-specific diversity and inclusion goals aligned with the overall Mayo Clinic goals."
In 2019, Mayo Clinic focused on increasing women and minorities in its top 200 leadership roles. Opportunities within leadership teams and colleagues are continuously explored and created to advance Mayo Clinic's diversity and inclusion goals. As a result, last year 56% of those leadership roles were filled by women or minorities.
Mayo Clinic has increased its visibility to potential talent and consistently aims  to improve the experience of underrepresented people at all levels of the organization. Through the Mayo Employee Resource Groups and their various grassroots programs, the organization is striving to create a welcoming environment for patients, visitors and staff, and increase retention of minorities.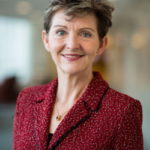 "Mayo Clinic is committed to meeting the changing needs of our patients, delivering the best possible individualized and culturally appropriate care and ensuring equity for both patients and our staff," says Sharonne Hayes, M.D. (I '86, CV '90), medical director of Mayo Clinic's Office of Diversity and Inclusion. "Our goal is a workforce that is as diverse as the communities in which we live and practice."