Earl Isbister, M.D. (U '63)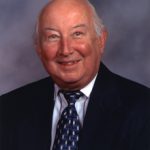 Dr. Earl Glen Isbister,BSc.,MDCM., FRCSC (U)
Peacefully, with his family at his side, listening to his favourite music, Earl passed away, on Tuesday , September 12, 2017, at Joseph Brant Hospital, at the age of 86. Survived by loving wife Pat (nee Malec) of 58 years, their two children, Glen (Roxanne) and Patricia (David Doherty), their 4 grandchildren Geoffrey and Daniel (Doherty), Thomas and Sarah (Isbister), and many nieces and nephews. Earl was predeceased by his parents Roy and Jean Isbister and his sister Joan Beckett and brother-in-law Peter.
Earl was born in Ottawa July 25, 1931. He earned a Bachelor of Science degree at McGill University in 1954 and was accepted into medical school at McGill University graduating in 1958. He interned at Hamilton General Hospital, finishing as Senior Surgical Intern in 1960. He was accepted for urological training at the Mayo Clinic, Rochester, Minnesota, where he was certified in Urology in 1963.
Earl and Pat decided to return to Hamilton which was becoming known as an excellent training center. He joined the active staff at Hamilton Civic Hospitals, courtesy staff at St. Joseph's Hospital and was granted his FRCS (U) in 1969. Earl practiced general urology but specialized in prostatic surgery. In 1981, he joined the faculty of McMaster Health Sciences as an Associate Professor and was appointed Chief of Surgery at the Henderson General Hospital. In addition to his busy Urologic Clinical practice, he rationalized urologic services and was appointed Director of Urology, a position he held until his retirement in 2000. He looked back with great fondness on his contributions to the growth of academic urology in Hamilton and at McMaster University in particular. Earl was a member of the Clinical Surgeons of North America, the Canadian Urologic Association, the Canadian Medical Protective Association, Past President of the Hamilton General Hospital Medical Staff, and Past President of Section of Urology of the Hamilton Academy of Medicine. Earl remained a member of the Honorary Staff of Hamilton Health Sciences in the Department of Surgery.
Earl was a man of integrity, always striving to do the best for his family, his patients, and his colleagues. His friendly, natural attitude gained him the respect of all who met him. Earl and Pat had many wonderful years of travel throughout the world with children and grandchildren. He learned to ski at 5 years of age, retiring from the sport in his 50's. He liked to go fishing and fished the Baskatong Res., Quebec, in his university years, and trophy fished with friends in northern Manitoba. Many trips to the Caribbean gave him the time to relax snorkeling the reefs of Barbados, which was one of his most enjoyable past times. A long-time member of the Roseland Park Country Club, he had many laughs at the Rogues meetings and luncheons. The medical Rodeo gatherings gave him the opportunity to reminisce with his long time friends.
Special thanks to Dr. Sharn Bhandhal, Dr. J. Berlingieri, Bayshore Home Care and the staff at Joseph Brant Hospital for their special care.
Private cremation has taken place. Visitation at SMITHS FUNERAL HOME, 1167 Guelph Line (one stoplight North of the QEW), Burlington (905-632-3333), on Thursday September 28th 2017 3-5and 7-9. A celebration of Earl's life will be held at ROYAL BOTANICAL GARDENS, BALLROOM Friday September 29th 2017 at 11 a.m. with Reception to follow. If desired donations in Earl's memory may be made to Hamilton Health Sciences Foundation, Department of surgery, Division of Urology, or the Royal Botanical Gardens Green Angels program.