The Alumni Center team is working remotely.In-person shopping for alumni merchandise in Rochester is temporarily suspended. Shipping for online merchandise orders may be delayed. Thank you for your patience.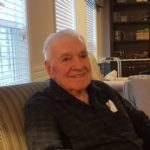 Harry Webb, M.D. (PLS '62)
Dr. Harry E. Webb
November 16, 1928 – April 06, 2019
Harry Edward Webb MD, age 90, passed away, April 6th 2019 at Benton House of Raymore. He was born November 16th, 1928 in Rochester, Minnesota to George Farrell Webb and Mary Louise Wright. He graduated from Shawnee Mission North and then attended the University of Kansas attaining a Doctorate of Medicine in 1956, later doing his residency in Plastic Surgery at the Mayo Clinic. He practiced in Kansas City, Missouri for many years. He married Barbra Alice Brown and they produced 4 sons. He is survived by sisters, Kaye Fisher and Lynda Montgomery, sons, Steven, James and Michael, and grandson Alex. He was preceded in death by his son Charles. No services are planned. In lieu of flowers memorials may be made to Alzheimers Association. Special thanks to the staff at Benton House of Raymore and Serenity Care Hospice.