Robert Phillip Jeub, M.D. (N '50)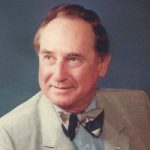 Jeub, Robert Phillip, MD 7/17/1921- 10/13/2017 Age 96, beloved husband, father and grandfather. Born in Minneapolis to Kathryn and Herman Jeub.
Graduate of St. Thomas Military Academy 1938 where he was a founding member of the first Crack Drill Squad and an Eagle Scout. Graduate of The College of St Thomas 1942. He was awarded MD degree from Marquette School of Medicine, now the Medical College of Wisconsin in 1946. He was resident MD at the University of Pennsylvania, a fellow MD at the Mayo Clinic and University of Minnesota. He served in the Air Force as chief neurologist at USAF hospital in San Antonio, Texas. His expertise was neurology and psychiatry. He worked with numerous counties throughout Minnesota as a Board Certified Medical Examiner. He was an expert in the diagnosis and treatment of mental illness. He practiced in the Medical Arts Building in Minneapolis and served many patients. He was founder and president of the American Board of Electroencephalography and Neurophysiology. He was a member of many medical associations and societies.
He was passionate about education, family and golf. Robert was a 50 plus year member at Edina Country Club and a pioneer at Rio Verde AZ Golf Club. He is survived by wife, Patricia; daughters, Mary Patricia Loewy (Richard), Katherine Meshbesher (Kenneth), Michelle Wachman (Erv), Elizabeth Lenz; sons, Robert, Michael and Christopher Jeub; 8 grandchildren. Mass of Christian Burial November 15 10:30 am at St Mary of the Lake, Plymouth, MN. Visitation 10:00 am. Private family interment. Memorials preferred to St Thomas Academy.
GILLBROTHERS.com New Hope, MN 763-531-1777
Obituary courtesy of Minneapolis Star Tribune