Q&A with Jon Thomas, M.D., Mayo Clinic Alumni Association Professional Achievement Award recipient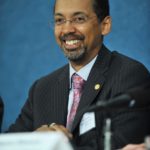 Jon Thomas, M.D. (MED '88, ENT '93), received the 2017 Mayo Clinic Alumni Association Professional Achievement Award, which we covered in Mayo Clinic Alumni magazine. We wanted to learn more about him and the role Mayo Clinic has played in his career.
Why did you decide to pursue medicine?   
I wanted to be a doctor all of my life. As a child, my response to the question of what I wanted to be when I grew up was always a doctor.
I played piano since age 5 and enjoyed building model cars. Because I enjoy creating things with my hands, I knew I wanted to be a surgeon by the time I was a teenager.
How did you decide on Mayo Clinic for medical school and residency?
During summer breaks are Carleton College (Northfield, Minnesota) after my sophomore and junior years, I worked in labs at Mayo Clinic, including a pulmonary lab in the Plummer Building and Dr. Ian Jardine's (PHAR '79) lab. During those summer months at Mayo, I met a number of people who were influential in my career. I sat in on medical school classes and shadowed surgeons in the operating room. It was a glorious time where I felt the opportunities to learn were everywhere.
What were your impressions of Mayo Clinic?
The nine years I spent at Mayo Clinic was easily one of the best periods of my life. I probably had the best quality of life and balance during medical school. I lived across the street from the Medical Sciences Building. I had a key to the United Methodist Church, allowing me access to one of the best pipe organs in the state. The YMCA was just a few blocks away, where I exercised regularly.
With the start of residency, life balance temporarily took a backseat to training, which was challenging yet fulfilling. I wanted to be a head and neck surgeon, and I believe the training I had at Mayo was superb.
What valuable lessons did you learn at Mayo Clinic?
Professionalism. Mayo provided me with the exposure to myriad consultants who epitomized professionalism. You really did learn not just by reading and studying but also by emulating and doing. It is rare to be in a place where you have many of medicine's best minds in one institution and readily accessible.
How does Mayo Clinic inform your practice?
After spending more than nine years at Mayo, it is part of who I am.
I work with three other Mayo-trained physicians in my practice. Jeffrey Manlove, M.D. (ENT '87), preceded me; I joined the practice in 1993. I gave a lecture to Mayo residents in the late 1990s, and Nissim Khabie, M.D. (ENT '02), was in that group, and he later joined our practice. Darren McDonald, M.D. (ENT '08), knew Dr. Khabie and joined our practice.
If you weren't a physician, what would you be doing?
Something involving designing, building or driving racing cars. When I spent time in France in college, I was exposed to Formula racing and have been hooked ever since. Fortunately for my medical career, I was exposed well after my decision was made, and there was no turning back. However, had I been exposed a few years earlier, I am sure I would have gone into engineering with the goal of designing and building race cars.
During high school, I briefly wanted to be a concert pianist. My best friend's mom, a violin teacher, convinced me that medicine as a career was better than music. I still hear her explaining that as a physician I could do so much good and also continue to play.
What's ahead for you in the next few years?
In addition to ramping up my practice, I will continue to look for opportunities to advance telemedicine/telehealth. All of my activities to date have been in advancing public policy and appropriate regulations. Going forward, I hope to have an impact in the private sector in developing and advancing telemedicine services that can positively impact access and delivery of health care.