Six Mayo Clinic investigators receive Conquer Cancer Awards
Conquer Cancer, the ASCO (American Society of Clinical Oncolog) Foundation, announced recipients of its awards supporting researchers with projects spanning many areas in cancer care, including immunotherapy, precision medicine, breast cancer and palliative care. The awards will be given in conjunction with the 2021 ASCO Annual Meeting, including six to Mayo Clinic investigators from the Division of Hematology in Rochester.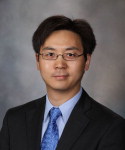 Yucai Wang, M.D., Ph.D. (HEMO '19), Division of Hematology at Mayo Clinic in Rochester, was awarded a Career Development Award, a three-year grant that funds clinical investigators who have received their initial faculty appointment and are working to establish an independent, patient-focused, clinical cancer research program. This year, 20 promising clinicians will receive CDAs, the most Conquer Cancer has awarded since 2006.
Five Mayo Clinic investigators were awarded Young Investigator Awards, which provide funding to promising investigators to encourage and promote quality research in oncology:
Young Investigator Awards support preclinical and clinical cancer research projects by oncologists who are undergoing a career transition from a fellowship program to a faculty appointment.