Teacher of the Year Award for Karim Bakri, M.B.B.S. — creating an environment where trainees can thrive
When Karim Bakri, M.B.B.S. (PLS '12), Division of Plastic and Reconstructive Surgery, Department of Surgery, was asked to help run the plastic surgery residency programs, he thought about his time in residency — what residents need to learn, how they learn and what they struggle to understand.
"I sorted out who taught me and what they taught me," he says. "I remember very clearly which 'Aha!' moments of mine are attributable to which mentors. I share that with residents and fellows I teach. You never forget who helped you understand something."
Dr. Bakri arrived at Mayo Clinic from England in 2006. He says what attracted him to Mayo Clinic was its reputation for excellence in patient care and education. "I was looking to get the best education possible," he says. "England has great teaching facilities, so if I was moving to the States and starting all over after five years of residency in England, I wanted to aim higher than what I'd already had. Mayo Clinic was that place. Once here, I was inspired to stay and make a career in Rochester."
A teacher since he joined the staff in 2013, Dr. Bakri has made it his mission to make sure Mayo Clinic maintains its status as a beacon of excellence in surgical education. He received his first Teacher of the Year award from the Mayo Fellows' Association in 2018.
Dr. Bakri also has a joint appointment in the Division of Hand Surgery, Department of Orthopedic Surgery, and he is an assistant professor of plastic surgery and orthopedics in the Mayo Clinic College of Medicine and Science.
What's your teaching style?
I take a commonsense approach to teaching. At least half of what we teach is surgical commonsense; the other half is knowing the evidence.
I like to understand where trainees are struggling so I can sort things out for them. When I was a resident, we had a visiting professor who repeatedly used the word "demystify." I try to determine what trainees find confusing and endeavor to "demystify" it. That process involves give and take — usually a one-on-one tutorial in the operating room or between patients in clinic.
A lot of surgical education isn't just about the nuts and bolts of operating. Rather, it's about the fundamentals of surgical etiquette, physician professionalism, integrity and related things. I do a 20-point evaluation at the end of a resident's rotation, and only three of those things relate to medical knowledge, clinical skills or technical ability in the OR. The others deal with integrity, respect, humility, leadership, ownership of patients, insight into their abilities, situational awareness and resilience. Those are important factors in shaping someone to become a successful surgeon. Just being able to cut and stitch isn't enough.
I feel that the learning environment is critical to teachers being able to achieve their goals. If the culture or feel of the place is sour, bitter or uncomfortable, students are less likely to learn. Mayo Clinic School of Graduate Medical Education has devoted significant attention to this issue. We want to make sure the culture of the plastic surgery residency program and environment we put residents in is one that allows them to thrive and learn from all consultants. When it is, the residents show up even when they don't have to because the environment is enjoyable and beneficial. That tells me the atmosphere is conducive to learning. It takes a team of colleagues and our education coordinators (Lisa Banks and Shirley Walter) to create this strong learning environment.
How do you know when you've done a good job teaching?
You don't always know. I'm pretty tough on the residents and expect great things from them in terms of performance and understanding. The gratitude, enthusiasm and engagement residents show make me feel like I'm on the right track. They're the ultimate judges of how well we do in education. Surgery isn't an easy job or easy lifestyle. When trainees step up and show they're part of everything we do, their engagement is palpable. Our surgical residents are some of the hardest-working residents in the hospital.
What's rewarding about teaching?
I'm rewarded by the "aha" moments residents show — when it all clicks for them and they show increasing independence.
Who were your teaching role models?
David Farley, M.D. (S '94, Division of Breast, Endocrine, Metabolic, and Gastrointestinal Surgery), really rubbed off on me. He was my residency program director in general surgery. His career is all about teaching.
Samir Mardini, M.D. (PLS '06, chair, Division of Plastic and Reconstructive Surgery), was my plastic surgery fellowship program director, and he had high expectations of us. When we showed up to conferences at 6:30 a.m., he would be there expecting us to be prepared. He instilled in us a culture of toeing the line and being part of the team.
Uldis Bite, M.D. (S '90, Division of Plastic and Reconstructive Surgery), David Nagorney, M.D. (S '82, Division of Hepatobiliary and Pancreas Surgery), and Henry Schiller, M.D. (S '01, chair of the Division of Trauma, Critical Care & General Surgery), were incredible teachers and role models who helped me reach many "aha" moments.
What does the Teacher of the Year award mean to you?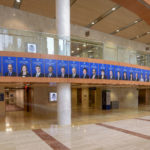 I was surprised to receive it. I don't do this for recognition. In past years I've seen the posters of the Teachers of the Year in the Gonda Building, but I didn't really think about it. Now I know what a big deal it is. Winning the award means we're successfully giving back and achieving a culture in which trainees can thrive.
Student comments
"I have never seen someone so devoted to resident teaching and training more than Dr. Bakri. He spends an exhaustive amount of time to teach residents and medical students and is patient and understanding."
"Dr. Bakri is dedicated to making sure residents are protected in every aspect and that each rotation is valuable. As the residency program's assistant director, he works tirelessly to optimize our residency experience. He evaluates the program and constantly makes adjustments to maximize the quality of resident education."
"He has an amazing ability to keep residents motivated and engaged. He goes out of his way to find a learning opportunity in every aspect of clinical care and is an excellent instructor in the operating room."
"There are few people who are simultaneously so masterful at their craft, dedicated to the improvement of our students and so enjoyable to be around. We are lucky to call Dr. Bakri our teacher."