The Latest from Mayo Clinic Laboratories
As the global reference laboratory for Mayo Clinic, Mayo Clinic Laboratories will help you advance patient care, strengthen your practice, and broaden access to specialized testing. Through our partnerships with clinicians at Mayo Clinic and health care providers around the world, we are able to offer the most sophisticated test catalog in the world. It is because of these daily collaborations that our subspecialized laboratories continue to be a critical component to patient care at Mayo Clinic.
Regaining quality of life after a decade of misdiagnosis: Kelly DuBois

Misdiagnosed with acromegaly, a disease marked by too much growth hormone, and plagued by a host of mysterious health problems from unnecessary medications, Kelly DuBois finally found answers after pharmacogenomic testing from Mayo Clinic Laboratories put her on a path toward healing.
Approaching tick season

As warm weather returns so do vector-borne diseases transmitted by ticks and mosquitos. In this episode of "Answers From the Lab," host Bobbi Pritt, M.D., chair of the Department of Laboratory Medicine and Pathology at Mayo Clinic, and William Morice II, M.D., Ph.D., president and CEO of Mayo Clinic Laboratories, discuss the increasing rates of tick-borne diseases and how to test for and prevent them. They also discuss what to watch from a federal legislative standpoint now that Congress is back in session.
An efficient, cost-effective, fungal testing alternative

 Histoplasma and Blastomyces are among the most prevalent fungal pathogens in the United States and can cause serious pulmonary illness. In this test-specific episode of the "Answers From the Lab" podcast, Elitza Theel, Ph.D., describes Mayo Clinic Laboratories' innovative Histoplasma and Blastomyces assay — a cost-effective alternative to existing tests.
Yuma Regional Medical Center: Strategic expansion to serve a growing community (Case Study)

Faced with a population increase and the need to expand both laboratory testing capacity and capabilities, Yuma Regional Medical Center leaned into its relationship with Mayo Clinic Laboratories to gain insights to strengthen community ties, attract new providers, and positively impact patient outcomes.
Testing options for patients with chronic diarrhea: A focus on bile acid malabsorption

Until now, the prevailing laboratory test for bile acid malabsorption required a 48-hour fecal specimen. Studies show that more than 25% of patients with IBS-D are suffering from bile acid malabsorption. If identified, therapies are readily available. This presentation, by Michael Camilleri, M.D., D.Sc., and Leslie Donato, Ph.D., describes a new serum test for bile acid malabsorption and how the test can be used as a screening test and as a tool for therapeutic action.
---
Education Program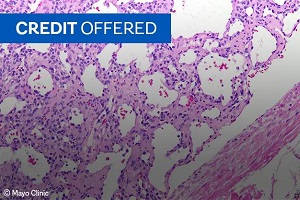 Applications of molecular pathology and the diagnosis of soft tissue neoplasms
In this month's "Virtual Lecture," Andrew Folpe, M.D., discusses applications of molecular pathology and the diagnosis of soft tissue neoplasms. This presentation is applicable for pathologists because so much of what is done in pathology and in sarcoma care is multidisciplinary, making it important to understand what others are doing.
---
How to Order Testing
Many hospitals across the country have already established an account with Mayo Clinic Laboratories. Please click on the links below to register for an account or sign-in.
Registration for an account takes less than 10 minutes, and new accounts are typically processed and available in one business day. Once registered, sign in and locate the test in the Test Catalog and click the "Order This Test" button. Follow the prompts to provide billing and contact information. Print the test requisition form to ship with the specimen.
More from Mayo Clinic Laboratories
Want to read more about what's happening at our labs? Visit our blog!